Ik schilder met een aquarelpenseel en soms ook met een X-actomesje. Daarbij laat ik mij inspireren door alles wat groen is. Van planten word ik rustig. Daarom verzamel ik ze graag. Soms vind ik mijn planten en bloemen dichtbij huis, en soms kom ik ze onderweg tegen. Ik schilder een selectie van mijn verzameling direct met waterverf op papier of snijd ze uit. Ik denk dat ik in de bloemen en planten die ik portreteer, iets van mezelf terugvind. Het kan gebeuren dat ik een aantal werken groepeer zodat een verfrissende samenspraak ontstaat. Ander werk komt solo het beste tot zijn recht.
I paint with a watercolor brush and sometimes with an X-acto knife. I get inspired by all things green. Plants make me calm. This is the reason I collect them. Sometimes I find my plants and flowers close to home, other times I encounter them on the road. I will paint a selection of my collected greenery directly on paper or cut them out at a later point in time. I think I see something of myself in all the flowers and plants I portray. At times I will group a number of works to make for a refreshing dialogue. Others work best solo.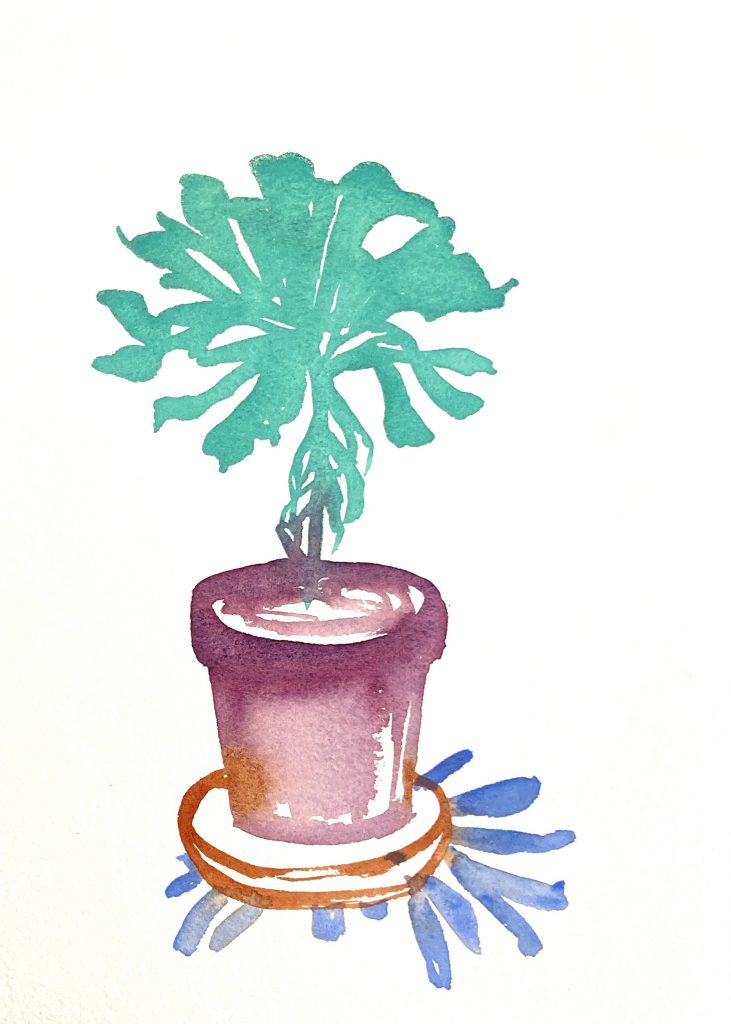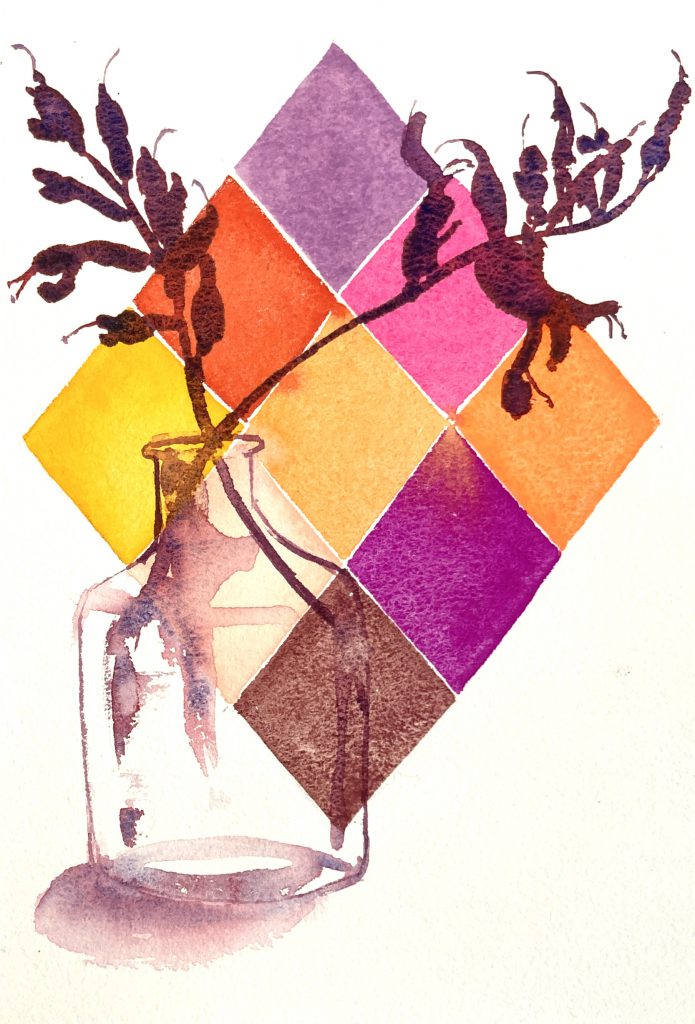 In the Grand Scheme of Things, This Is It for Me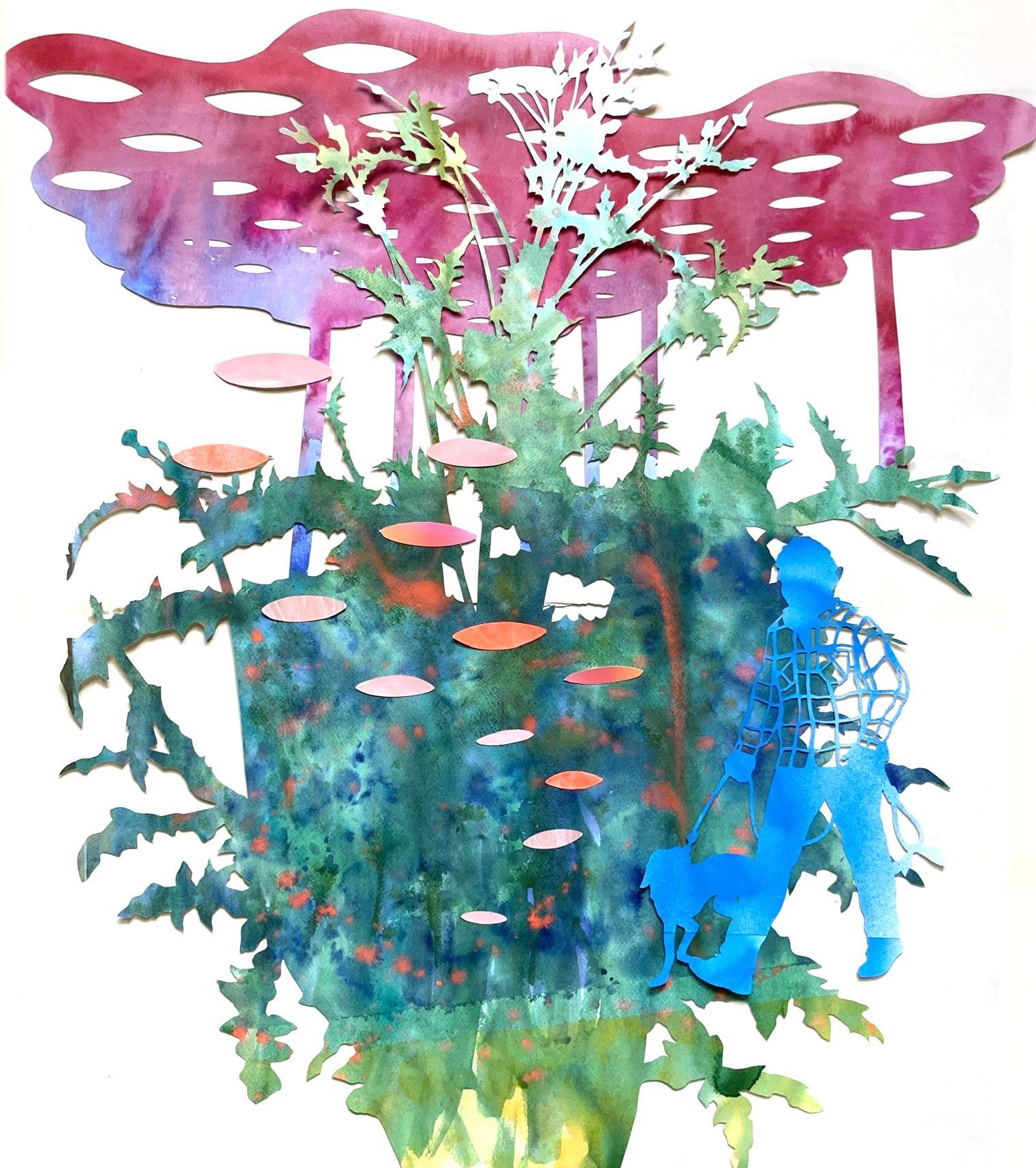 Ik hou ervan om te 'tekenen' met een mesje. Zo creëer ik mijn cut-outs uit beschilderd papier. Het stelt mij in staat te werken met een gekunstelde gelaagdheid. Omdat ik mij daarbij laat inspireren door de bloemen en planten die ik onderweg ontmoet, ogen de composities van mijn cut-outs weleens natuurlijk.
I love 'drawing' with a blade. In this way I create my cut-outs from pre-painted paper. It allows me to work with artificial layers. Because I am inspired by the flowers and plants I meet while on the road, the compositions with my cut-outs have a natural look and feel.
Layer upon layer, 2022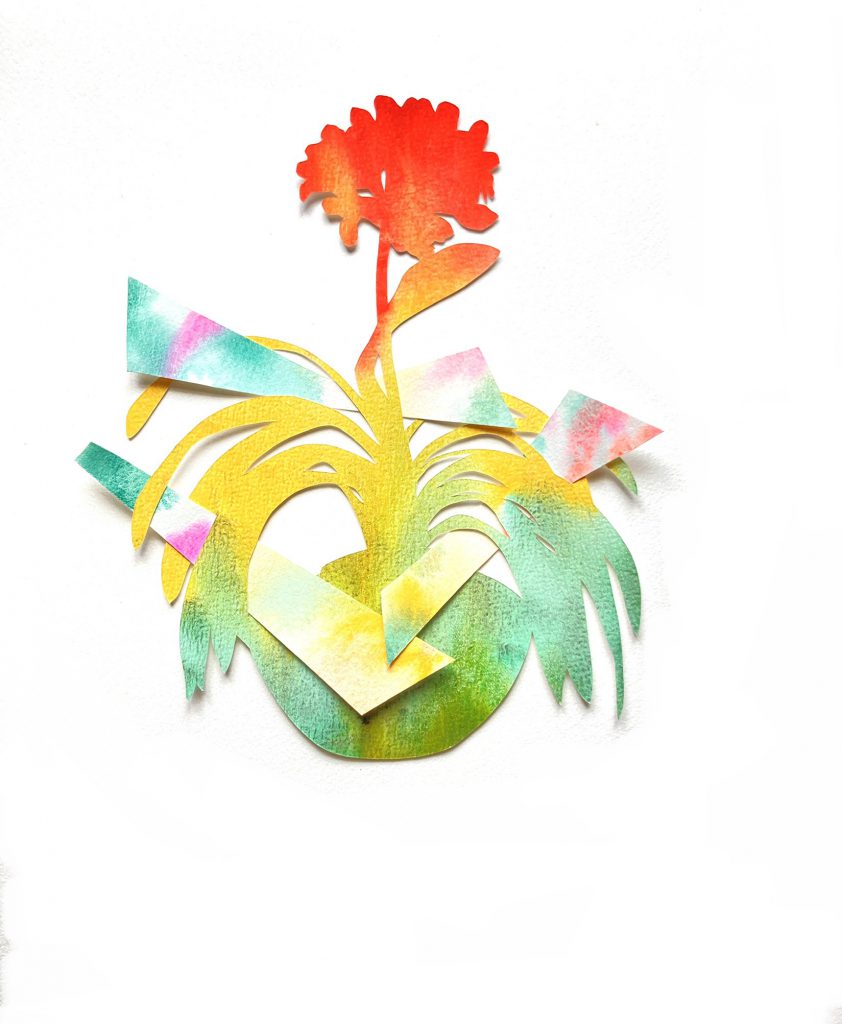 Clivia, Stripes #5, Orchid, 2022, watercolor cut-outs
Dat planten leven van het licht vind ik een fascinerend gegeven. Dat die abstractie, dat ongrijpbare zonlicht van wezenlijk belang is voor het plantenrijk. Wij mensen nemen het licht van onze zon vooral waar als warmte en kleur. Ik stel me daarbij voor dat de veelkleurigheid van het zonlicht, wordt opgeslagen in bladgroen. Die ongelooflijke kleurenpracht wil ik zoveel mogelijk benaderen met mijn cut-outs. // I find it fascinating the way plants live off light. That this abstraction, ethereal sunlight is essential to the realm of plants. We humans can only observe the light of our sun as warmth and colour. I imagine that this multitude of colours locked in the sunlight is recorded in the leaf green of a plant. I strive to re-create this incredible display of colours with my watercolour cut-outs.
Snijbloemen // Cut flowers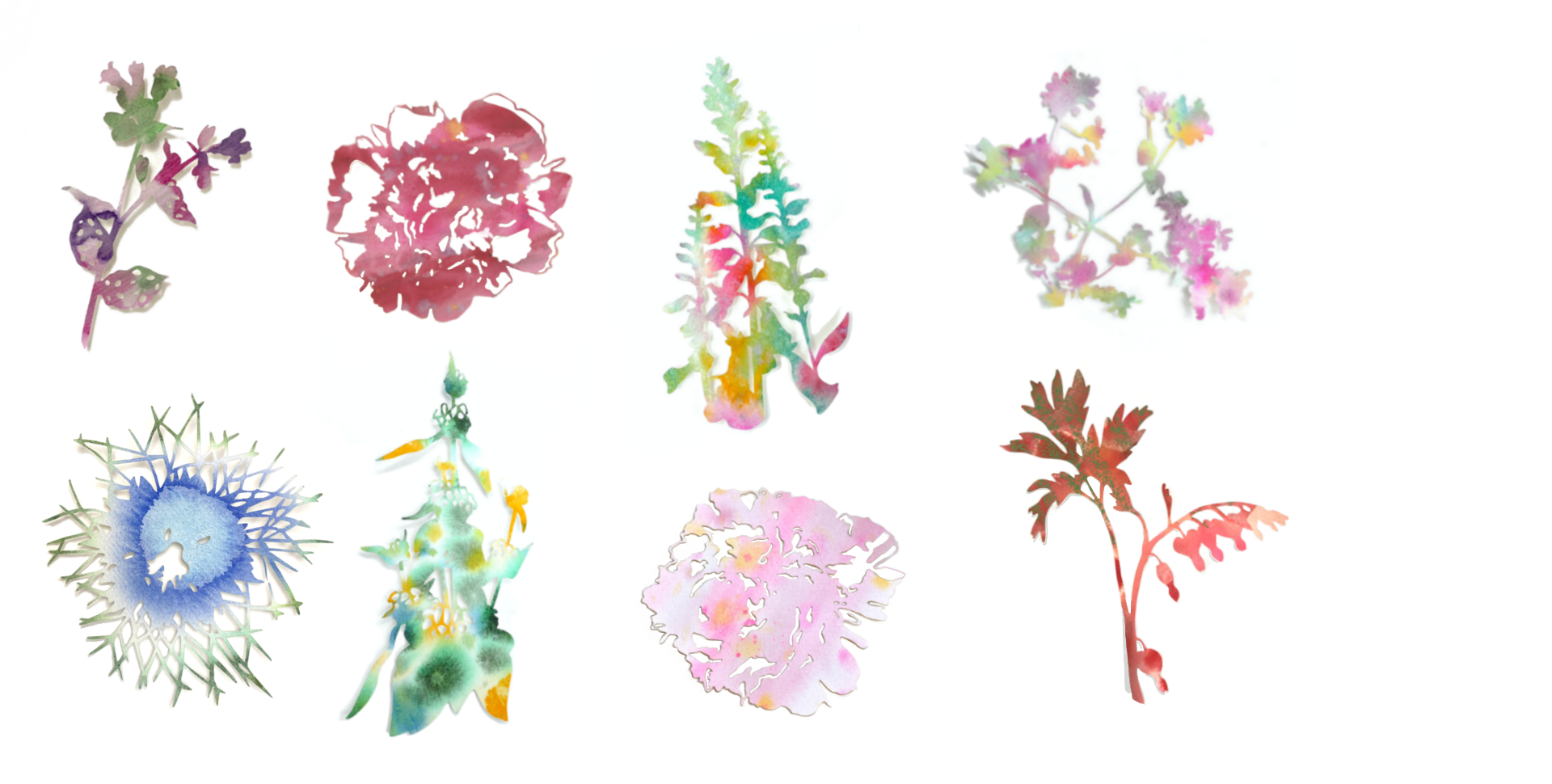 Wat begon als een geintje voor Moederdag 2021, eindigde in zo'n 25 verschillende snijbloemen geïnspireerd op de bloemen in mijn voormalige ateliertuin (inmiddels ben ik verhuisd naar Utrecht en heb ik een atelierbalkon ;). Het gebroken hartje is mij extra dierbaar, omdat het lieve vrienden raakte die recent een dierbare hadden verloren. // What started as a joke for Mother's Day in 2021, ended in about 25 different 'cut flowers', inspired by my former studio garden (since that time I moved to Utrecht where I have a studio balcony ;). The most touching of my cut flowers was the Bleeding heart, because it spoke so clearly to friends who had recently lost a loved one.
Hierboven zie je acht van de circa 25 snijbloemen die ik in series van vier met een snijplotter maakte: longkruid, pioenroos, vingerhoedskruid, wilde marjolein, nigella, brandkruid, klimroos en als laatste het gebroken hartje. // Above you see eight of about 25 'cut flowers' I cut with a plotter in series of four: Pulmonella, Peonia, Foxglove, Marjoram, Nigella, Phlomis, Rose and, finally, Bleeding heart.
Window shopping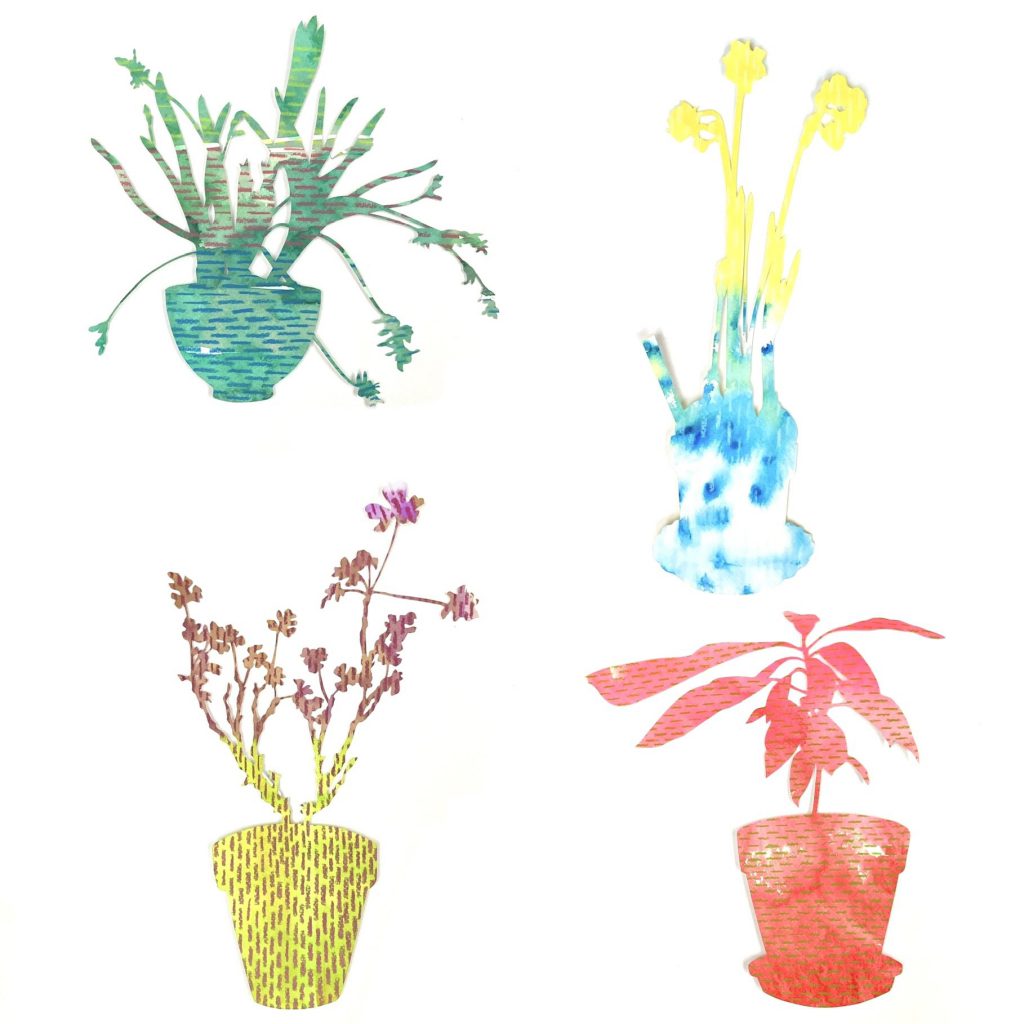 In het vroege voorjaar van 2021 sneed ik vier planten uit die op mijn vensterbank stonden te overwinteren: Scylla, Narcis, Geranium en Avocado. Tezamen met mijn grote Akkermelkdistel (hieronder) en mijn serie Through the Hoop hingen ze in het voorjaar van 2021 in de etalage van Paper Art & Design in Den Haag. (Ik verkocht er drie) // Early in 2021 I cut four potted plants that were overwintering on my windowsill: Scylla, Narcissus, Geranium and Avocado. Later that spring they were exhibited in the shop window of Paper Art & Design in The Hague, together with my Smooth Sow-Thistle and my Through the Hoop series (further below). (I sold three).
Quarantuin // Quarantine Garden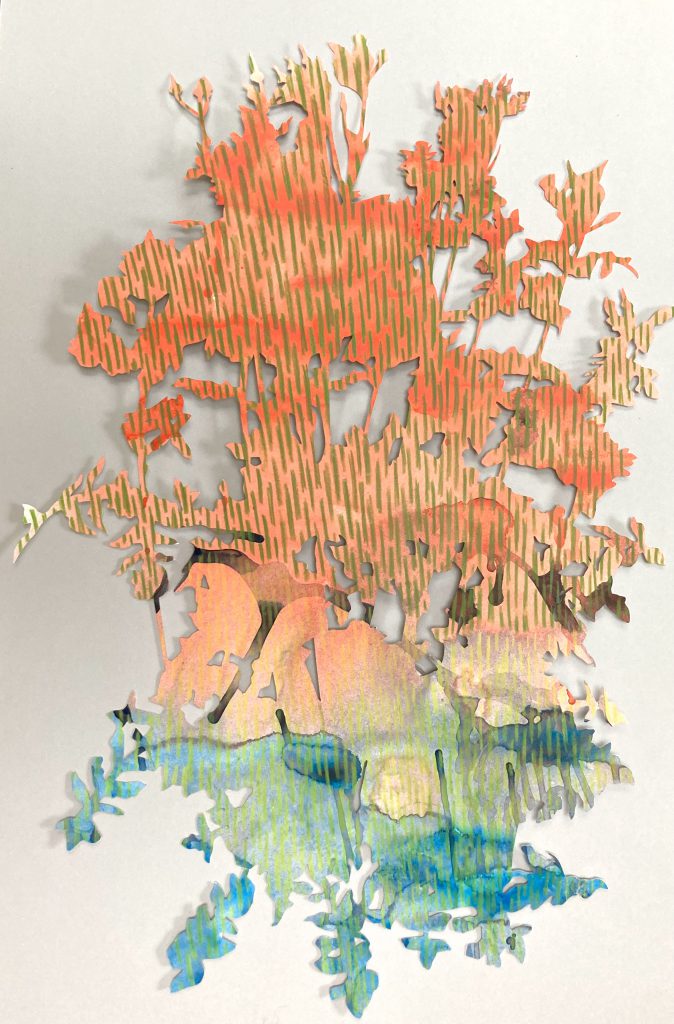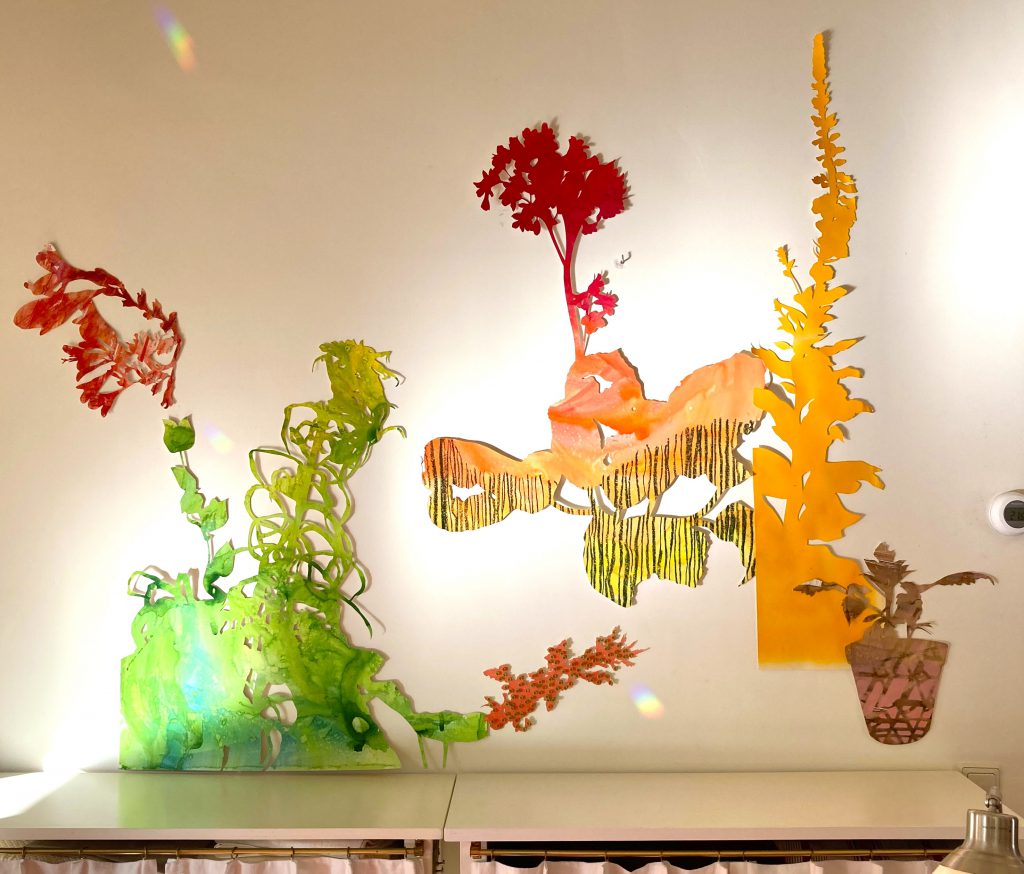 Scenes from the Garden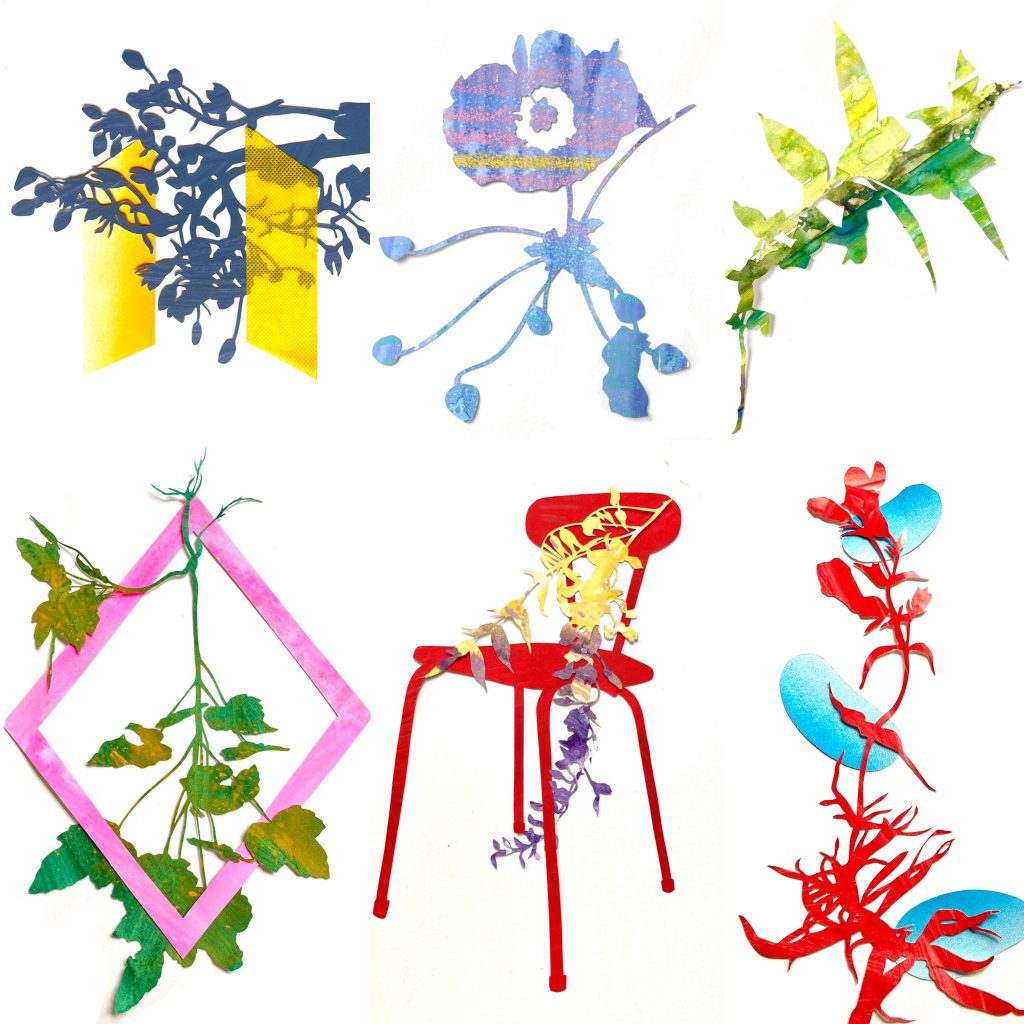 Quarantuiltjes // Quarantine bouquets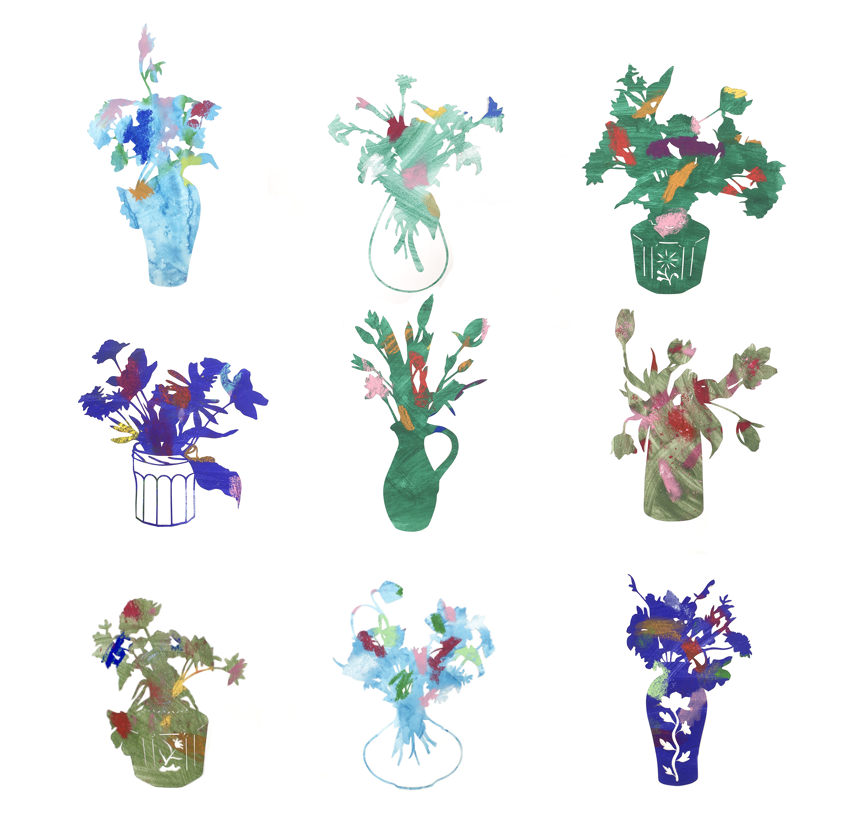 Hangplantjes // Hanging plants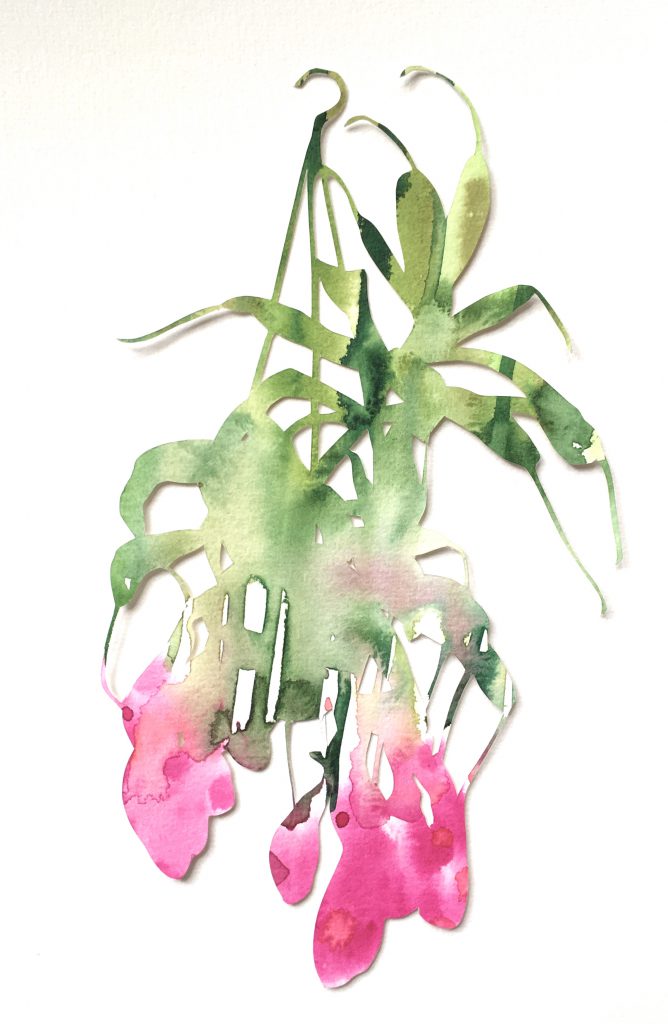 Fallen Flowers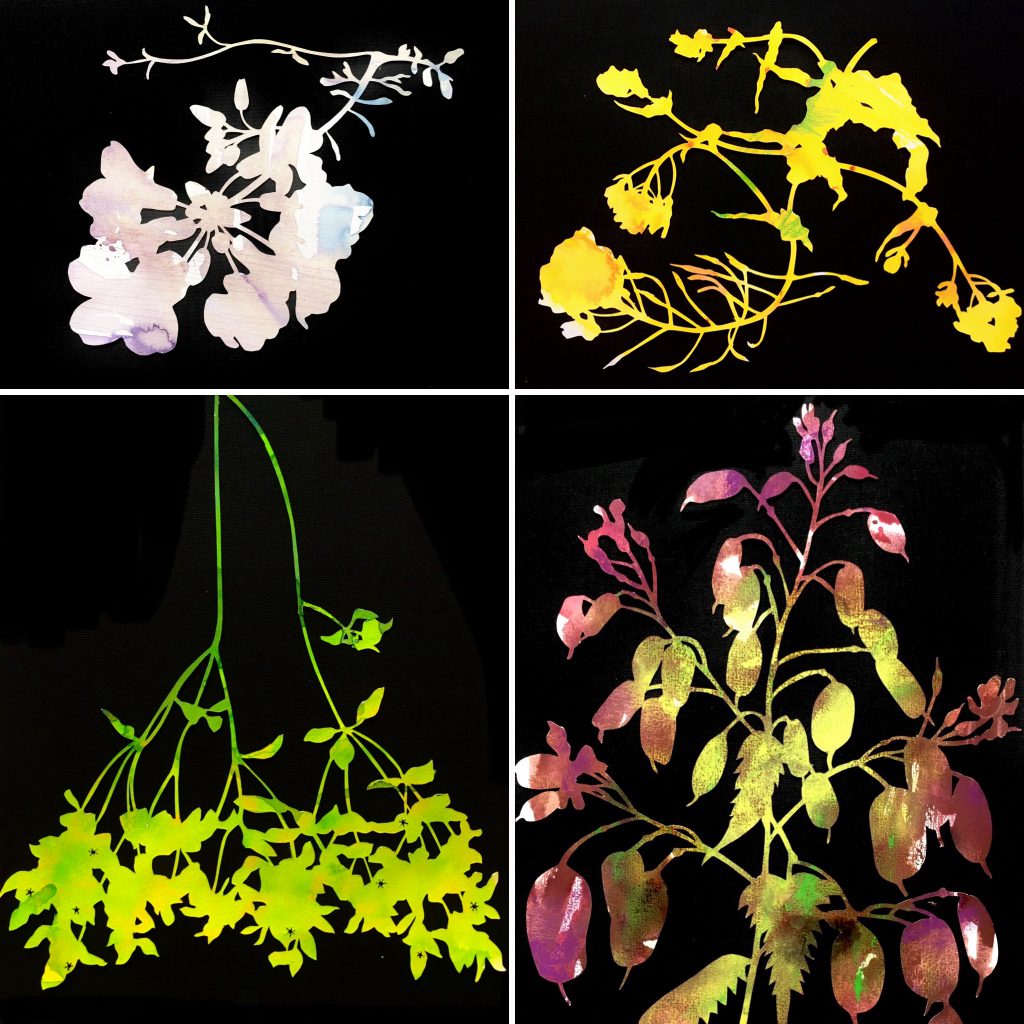 Ik begin met het verzamelen van mijn belangrijkste onderwerp. Dat zijn de planten en bloemen die ik zelf heb opgekweekt of gekregen of die ik tegenkom onderweg. Daarna bewerk ik het papier met aquarelverf. Dat materiaal blijft mij verrassen: die kleuren, die lichtheid. Met dit materiaal benader je wat mij betreft de 'echte' kleuren in de natuur het beste. Als ik een groot vel aquarelpapier gebruik, duurt het weleens een nacht voordat zo'n vel helemaal droog is omdat ik de verf zo laat spetteren en druppelen. Als het vel droog is, schets ik het onderwerp op de achterkant. Pas daarna ga ik het onderwerp uitsnijden, vanaf die achterkant. Zo is de uiteindelijk cut-out een grote verrassing: hoe pakken de levendige kleuren uit bij het onderwerp?
De laatste stap is bepalen of een cut-out alleen krachtig genoeg is als beeld of dat het deel gaat uitmaken van een grotere compositie. In beide gevallen begint de werkwijze die ik hierboven beschreef weer van voren af aan...
I start with collecting my most important subjects. These are the plants and flowers I grow or was given or those that I meet when I'm on the road. Then I prepare the paper I use with watercolour paint. This material keeps surprising me: those colors, that lightness. In my view it gets as close to the 'true' colours in nature as possible. When I use a large sheet of watercolour paper, it could take all night to dry, because of the liberal spattering and dripping of the watercolour paint. Once the paper is dry, I sketch out my subject on the back and start cutting from that side. This way the finished cut-out will always surprise me: how will the vibrant colours match the subject?
The final step is determining if a cut-out has enough strength to be a work in itself or will become part of a bigger work. In both cases, the method I described above will start anew.