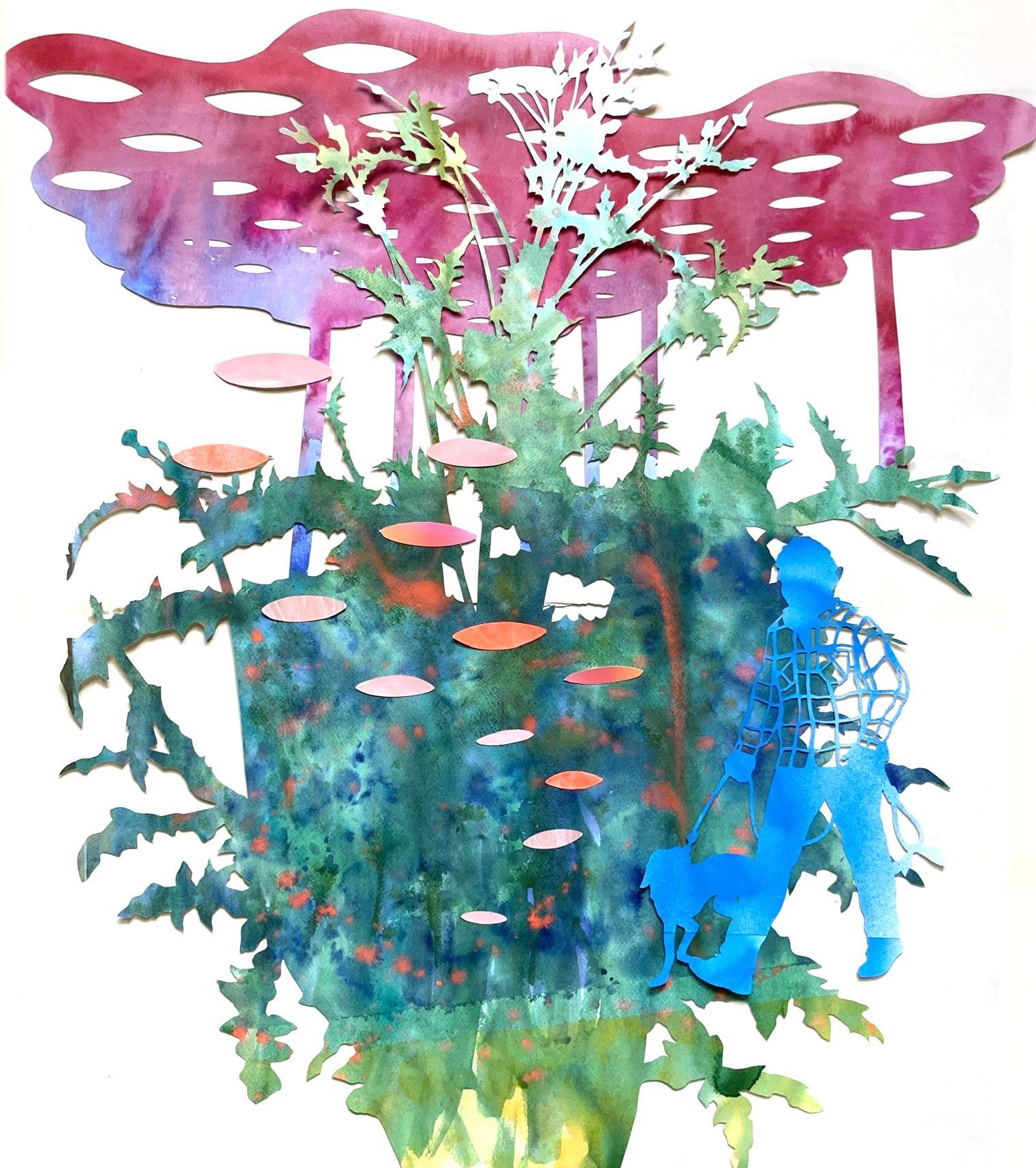 Ik 'teken' met een mesje mijn cut-outs uit beschilderd papier. Deze methode stelt mij in staat een gekunstelde gelaagdheid te creëren. Omdat ik mij daarbij laat inspireren door de bloemen en planten die ik onderweg ontmoet, ogen de composities van mijn snijdsels weleens natuurlijk. Niets is minder waar. // I 'draw' my cut-outs with a blade from pre-painted paper. This method allows me to create artificial layers. Because I am inspired by the flowers and plants I meet while on the road, the compositions with my cut-outs have a natural look and feel. Nothing is further from the truth.
Wil je meer weten over mijn werk? Mail dan naar francesvangool@gmail.com // If you wish to know more about my work, send me an email: francesvangool@gmail.com
Snijbloemen // Cut flowers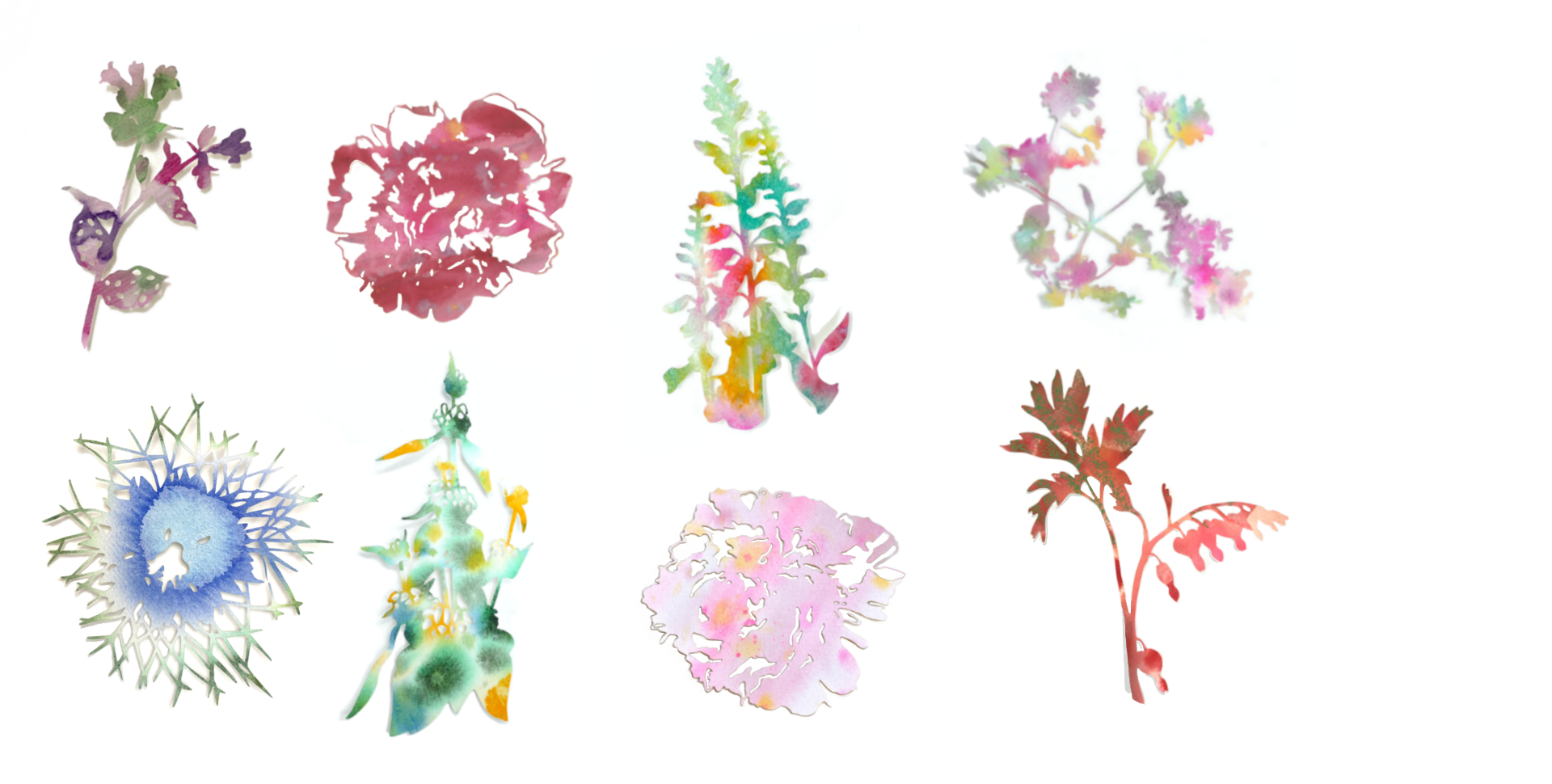 Wat begon als een geintje voor Moederdag 2021, eindigde in zo'n 25 verschillende snijbloemen geïnspireerd op de bloemen in mijn voormalige ateliertuin (inmiddels ben ik verhuisd naar Utrecht en heb ik een atelierbalkon ;). Het gebroken hartje is mij extra dierbaar, omdat het lieve vrienden raakte die recent een dierbare hadden verloren. // What started as a joke for Mother's Day in 2021, ended in about 25 different 'cut flowers', inspired by my former studio garden (since that time I moved to Utrecht where I have a studio balcony ;). The most touching of my cut flowers was the Bleeding heart, because it spoke so clearly to friends who had recently lost a loved one.
Hierboven zie je acht van de circa 25 snijbloemen die ik in series van vier met een snijplotter maakte: longkruid, pioenroos, vingerhoedskruid, wilde marjolein, nigella, brandkruid, klimroos en als laatste het gebroken hartje. // Above you see eight of about 25 'cut flowers' I cut with a plotter in series of four: Pulmonella, Peonia, Foxglove, Marjoram, Nigella, Phlomis, Rose and, finally, Bleeding heart.
Window shopping
In het vroege voorjaar van 2021 sneed ik vier planten uit die op mijn vensterbank stonden te overwinteren: Scylla, Narcis, Geranium en Avocado. Tezamen met mijn grote Akkermelkdistel (hieronder) en mijn serie Through the Hoop hingen ze in het voorjaar van 2021 in de etalage van Paper Art & Design in Den Haag. (Ik verkocht er drie) // Early in 2021 I cut four potted plants that were overwintering on my windowsill: Scylla, Narcissus, Geranium and Avocado. Later that spring they were exhibited in the shop window of Paper Art & Design in The Hague, together with my Smooth Sow-Thistle and my Through the Hoop series (further below). (I sold three).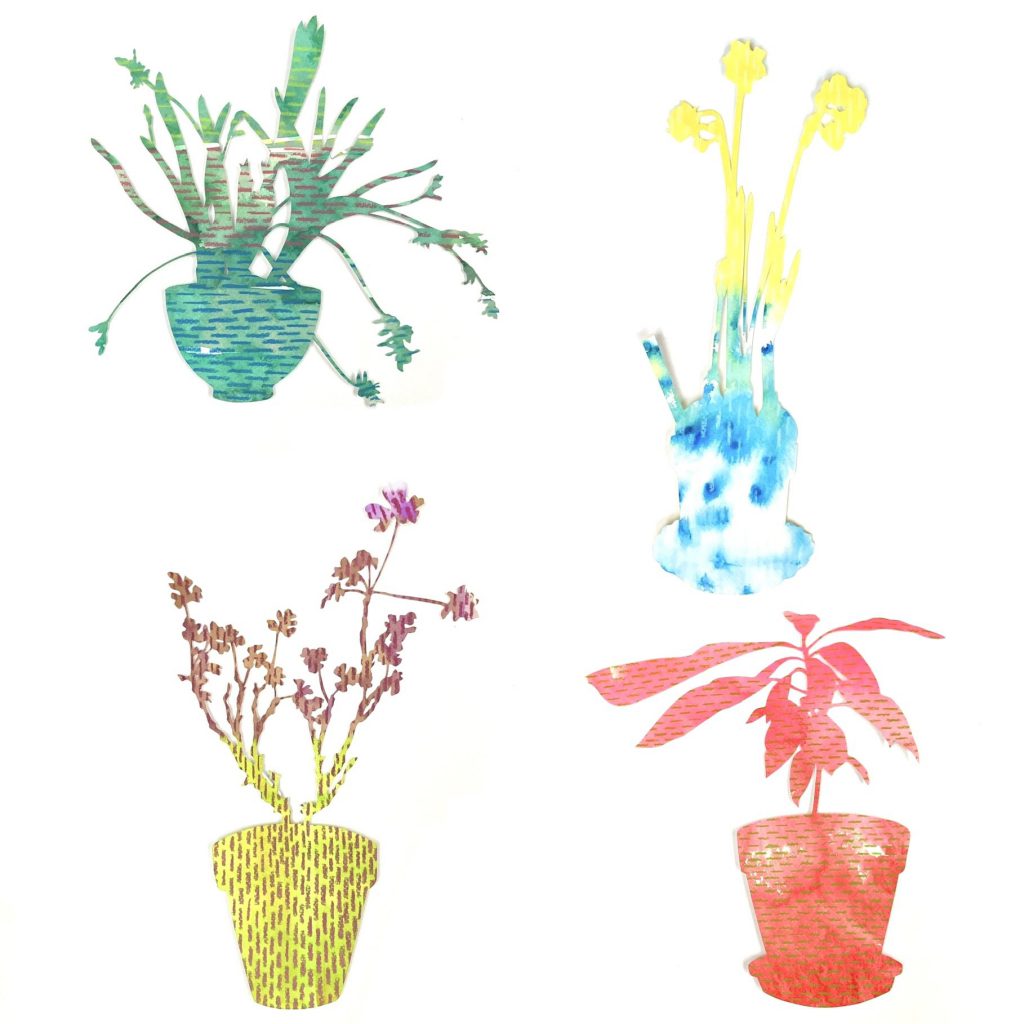 Quarantuin // Quarantine Garden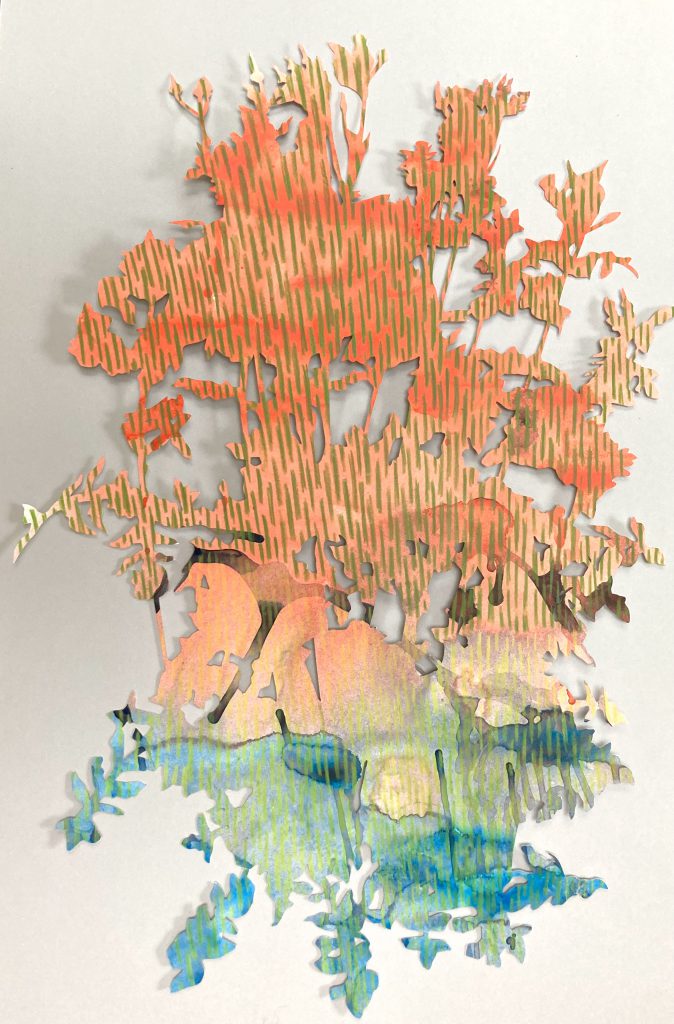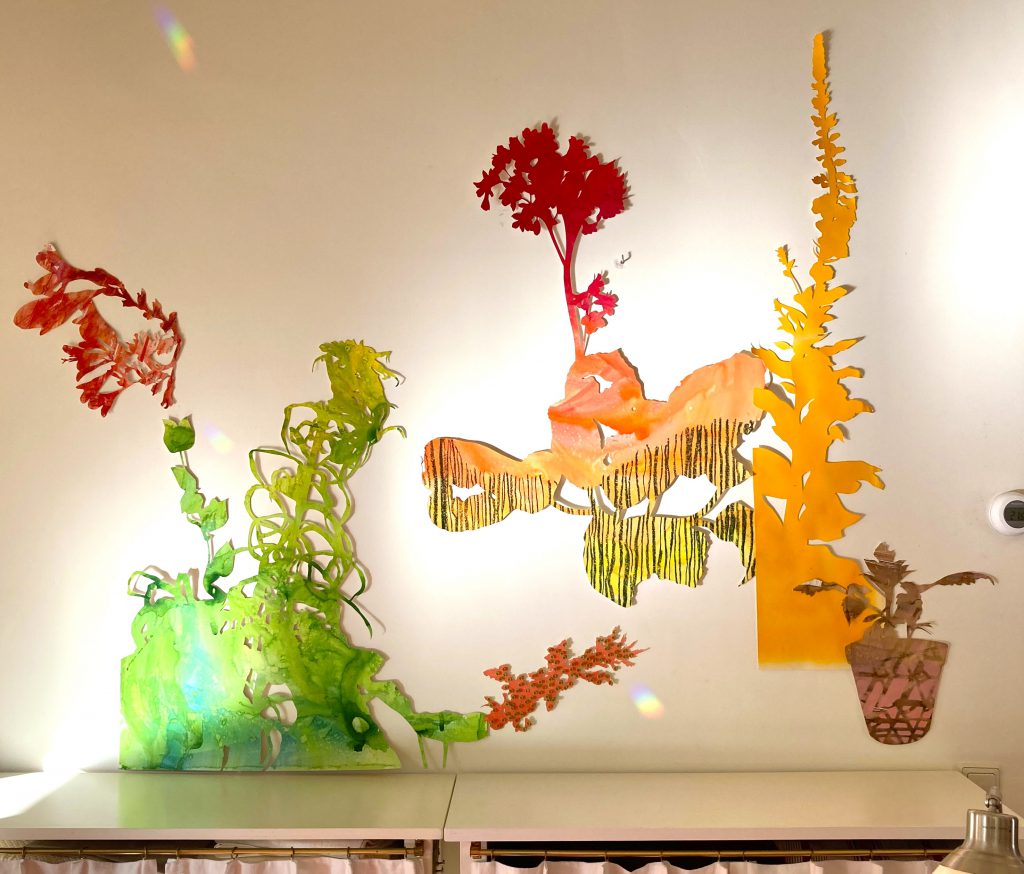 Scenes from the Garden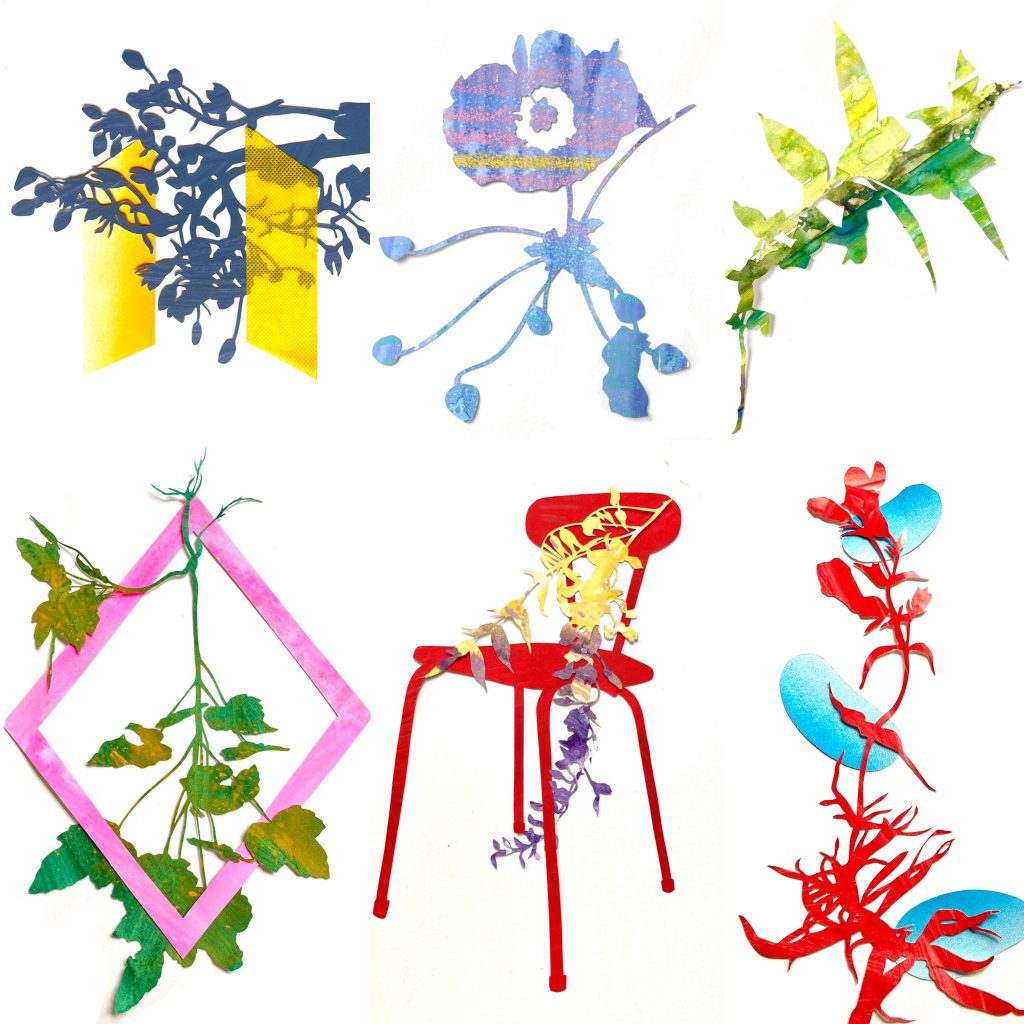 Quarantuiltjes // Quarantine bouquets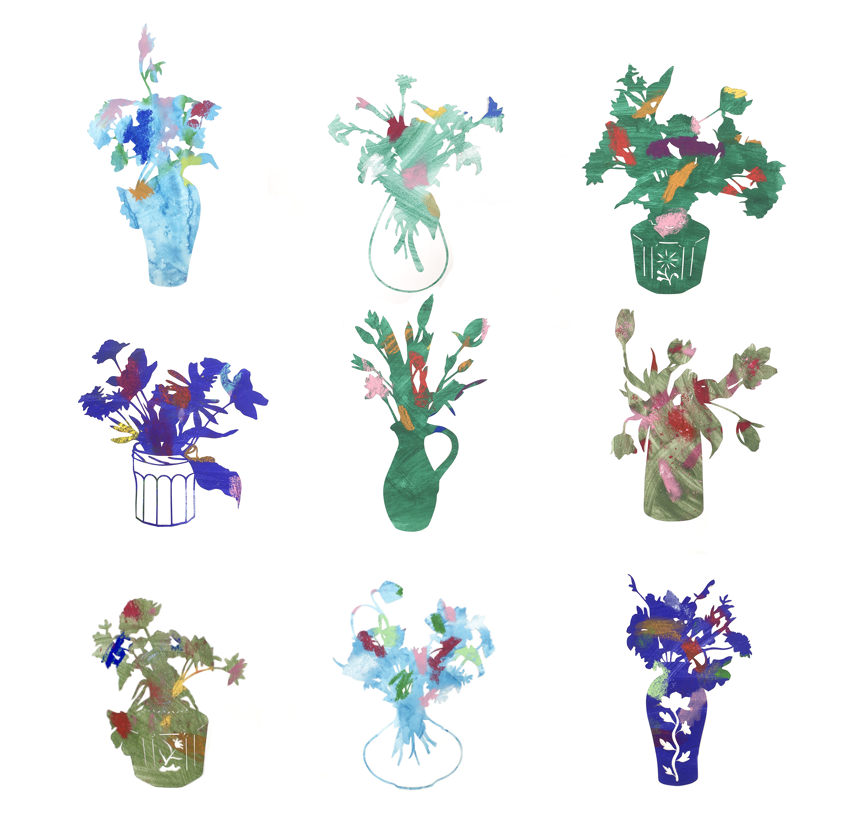 Hangplantjes // Hanging plants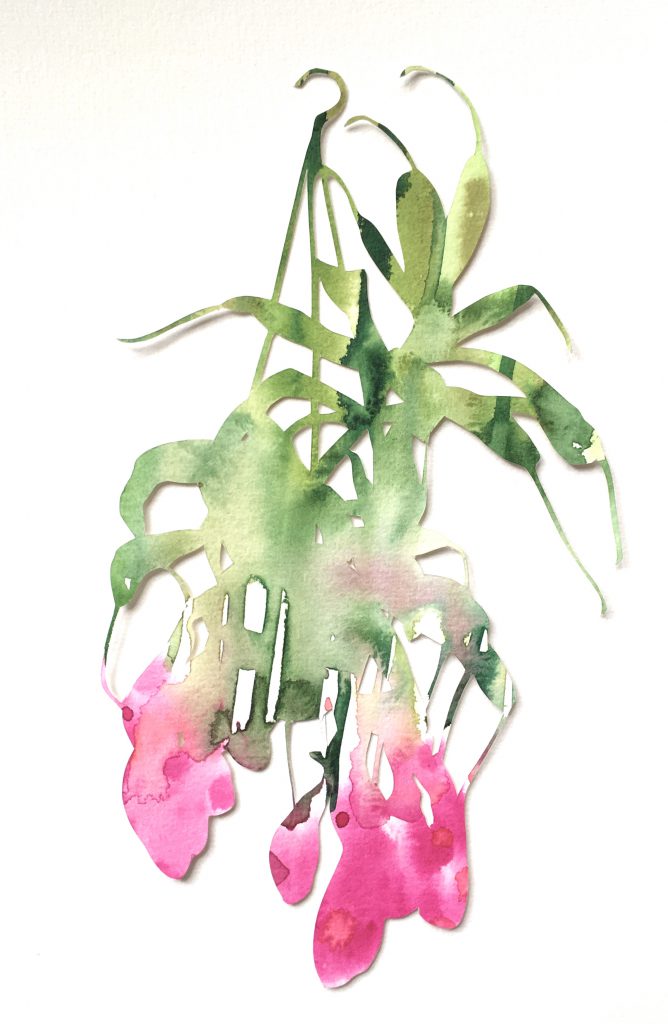 Fallen Flowers